I am trying to reduce the space between a subheading and a two column multicol. I have tried to change the margins on both the mutlticol and the heading, however it has lead me to no avail.
This is what I have written for the multicol / header (the data is just dummy data):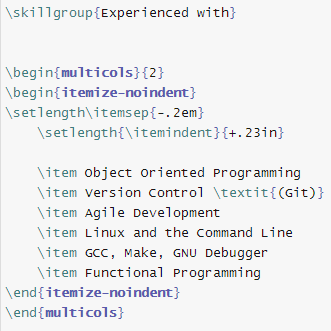 This is the output from this:

(Note: the Language section is as expected. That is what I am going for.)
This amount of white-space is too much, and no already answered questions that I could find seems to be addressing this. I believe I did read an answer saying that multicol may not be the correct solution, but I would assume there has to be a way to squish that space to make it more consistent.